2019 Mourvedre Rosé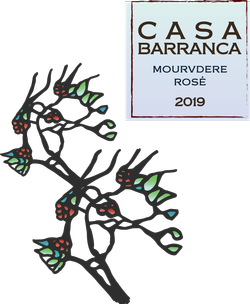 Wine Specs
Vineyard Designation
Love Ranch Vineyard
Aging
50% Neutral French Oak, 50% Stainless Steel
Wine Profile
Tasting Notes
Orange zest, grapefruit, Honeydew, lemon-peal, & cantaloupe.
Vineyard Notes
Love Ranch Vineyard is at an elevation of 1,350 ft, 35 miles South of Yosemite National Park. 21 acres are farmed organically on varied slopes of granitic schist. With excellent drainage and moisture retention the day's heat, these soils radiate warmth into the vine's canopy on cold nights. During late spring and through out the summer months, constant winds of 10mph start around 2pm and well into the evening. This also aids in moderating temperatures of the granite soils on hot days.
Winemaker Notes
This fruit was fermented Carbonic; a process by which the fruit is fermented inside of each berry. The grapes are gently placed in a fermenter full of CO2 to prevent any oxidation. The process begins by an enzymatic breakdown of sugars in the berry which produces a distinct strawberry rhubarb aroma. The strange thing is that this process also produces alcohol without yeast activity. During this process, the juice has no exposure to the skins and extracts very little color and almost no tannin. After the initial enzymatic conversion, the berries swell and burst allowing yeast to complete the fermentation process. This wine was fermented in small lots and aged in French oak that was two years old. This oak appeared neutral before filling but had a much stronger influence than expected as it darkened the wine to the appearance of a light Pinot Noir and less of a Rose.