2021 Cabernet Sauvignon, The Naturalist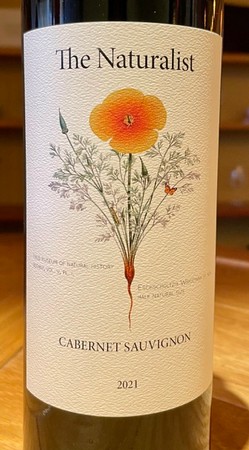 Cabernet Sauvignon thrives at Coquelicot. The low valley planting is well suited to Bordeaux varieties as it stays cold through the morning but gets very hot in the afternoon. It is difficult to ripen the green bell pepper flavor out of Cabernet in cold growing areas; but too hot and the fruit loses its flavor completely.
This wine is ready to drink but will improve over the next 5 years if cellared.
Tasting Notes: Baked goods, blueberry pie, sweet aromatic spices with a velvety, crisp, elegant, long-dried peony, blue fruit, and dried berry finish with silky, fine tannins and restrained oak profile.
Pairing suggestion: Grass-fed ribeye grilled over charcoal with a pan sauce of morel mushrooms and seared Brussel sprouts. The gamey flavor of a grass-fed ribeye and earthy mushrooms will be a great counterpoint to the fruit flavors of the Cabernet.
Wine Specs
Varietal
Cabernet Sauvignon
Appellation
Santa Ynez Valley