2021 Merlot - The Naturalist - Coquelicot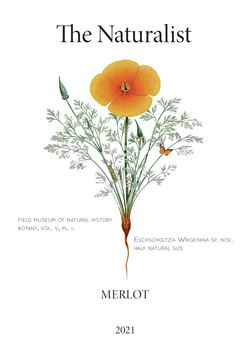 Wine Specs
Appellation
Santa Ynez Valley
Vineyard Designation
Coquelicot Vineyard
Aging
French Oak, 20% New
Wine Profile
Tasting Notes
Cassis, blackberry, blueberry, raspberry, burnt sugar, toasty oak with aromas of ripe juicy berries, holiday spices, and caramelized sugar. On the palate, this wine embraces with its firm yet silky tannins, creating a velvety texture that elevates the drinking experience.
Vineyard Notes
The low valley planting is well suited to Merlot as it stays cold through the morning but gets very hot in the afternoon.Without sufficient heat, Bordeaux varieties retain an off-putting green bell pepper taste. Yet, if over ripe, the wine becomes dull as it looses its more delicate fruit aromas and flavors. The Ballard gravelly fine sandy loam soil is well draining which promotes deep roots that pull more trace minerals into the fruit giving the wine a deep, iron like, mineralogy. The Coquelicot vineyard's soil composition plays a pivotal role in shaping the character of this Merlot. Marked by a harmonious blend of sandy loam, clay, and limestone, the terroir imparts a unique complexity and depth to the wine.
Production Notes
The Naturalist Merlot 2021, originating from the esteemed Coquelicot vineyard nestled within the captivating Santa Ynez A.V.A, is a shining example of organic winemaking. This remarkable wine has been patiently aged in barrel for two years, allowing it to reach its full potential and showcase the essence of its varietal.
Winemaker Notes
The Naturalist Merlot 2021 entices the senses with its enticing bouquet, offering an abundance of jammy, ripe blackberries and plums. Intertwined with these luscious fruits are subtle hints of dried fruits, which add an intriguing layer of complexity and depth to the overall experience.
Other Notes
Certified USDA Organic • Wild Fermentation • No Added Sulfites